The unique styling of this stunning mid-century modern inspired home is all thanks to interiors guru Maret, cabinet maker Jason and the legacy of Maret's stylish mother.
The vast white walls and timber floors combine with an eclectic mix of colourful furnishings and architectural features to create pure property magic.
Dramatic ceiling heights, bold vintage wallpaper, bursts of greenery and retro furniture mingle to perfection.
This month's House Perv is celebration of great design, a love of colour and comfortable yet quirky family living.
Enjoy!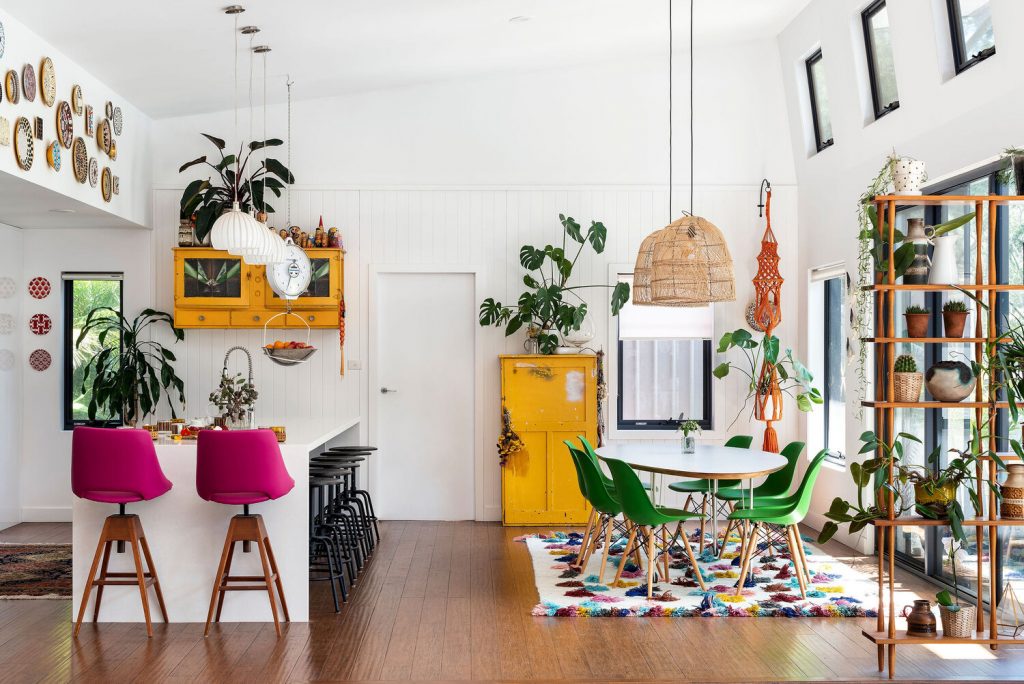 IMAGES: Atelier Photography
Q: Firstly – please tell us a little about who is currently living at your home.
M: My name is Maret and I live here with my husband Jason. I am the owner operator of Maret Larnach Styling, Property Staging, Interiors and Events. Jason is a (very talented) cabinet maker. Our children also live with us, Min (23) is a chef and Tre (21) is an electrician.
We have three Miniature Dachshunds, Phern, Ekky and Little Moon who rule the house and are a constant source of entertainment with Raspusha the cat who's the real boss of us all!
Q: Now onto your beautiful home – can you tell us about its story from when you purchased the property until today?
M: We purchased our home five years ago, we weren't really looking but the stars aligned. Jason has added cabinetry throughout and a few modifications to the kitchen.
We have hung vintage wallpaper in our loungeroom, guestroom and study and bespoke wallpaper in the master bedroom.
Every wall in the house is white so this meant we could inject colour exactly where and how we wanted.
We built the outdoor/pool area, ensuring the design and proportion was in keeping with the rest of the house. We incorporated a few unique recycled pieces; a crab trap as a light fixture and an outdoor dining table made from railway sleepers.
Q: What are you happiest about with the home and how it looks and functions?
M: In terms of functionality, all the windows are high and north-facing, so the house stays really warm in the winter.
Staying with functionality the outdoor area is our most favourite space: Swimming, cooking, eating and watching movies can all be done from here, so it really is another room! Future renovations include a kitchen makeover to reflect 'us' a little more and some mid-century inspired gardens.
Q: What or who are your key style inspirations?
M: My mum, now passed was my style icon, although we didn't always have similar taste, she definitely introduced me to a love and passion for interiors.
Q: How you would describe your interior style?
M: My style is eclectic! Mid-century modern is my absolute favourite style although I love vintage pieces and anything quirky with colour and patterns. 
Q: What you love most about living in your house?
M: Tall ceilings and natural light are two of the best features and the indoor/outdoor flow makes our living areas a favourite.
My favourite pieces of furniture include the bespoke dining table made by Jason, a Chiswell china cabinet that belonged to my mum and dad that I now keep my shoes in and two vintage armchairs that face our backyard.
The chairs are due to be re-upholstered thanks to Little Moon's puppy stage – lucky she is so darn CUTE!
Q: Can you tell us about the location and you what do you enjoy most? For example, the beach, walks, local café etc.
M: We live on around 10 acres of land just five minutes from beaches, sand dunes and cafés.  We are close enough to visit Sydney regularly for shopping and dining.
Q: Is this your forever home?
M: I'm pretty sure this is our forever home, right now there is nowhere else we would want to be.
Q: Three words you would use to describe your home?
Colourful, quirky and comfortable.